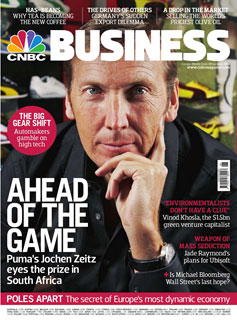 CNBC BUSINESS magazine is the flagship publication of the recognised leader in business and financial news.  

Published out of London, CNBC BUSINESS magazine reaches an investor audience of over 650,000 through a distribution network of international newsstands, airline business cabins, business hotel chains and financial institutions. It enjoys a privileged distribution at high profile global conferences such as the Davos World Economic Forum and is sent directly to the CNBC Global Leaders List reaching the CEOs of the world's top 1000 companies based on dollar turnover, amounting in total to $22 trillion.
Editorial
CNBC Business is a monthly business magazine that covers – and discovers – the most interesting entrepreneurs hatching the most innovative business models within the most dynamic sectors.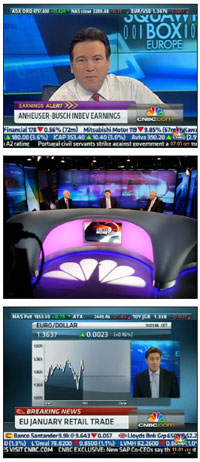 From Apple to Zecco, we have reported on a huge array of gamechangers during the past few months and have carried exclusive interviews with green investment guru Vinod Khosla, Juno founder Chris Hughes, Foursquare's Dennis Crowley, PayPal and Slide.com's Max Levchin, Layar co-founder Maarten Lens-Fitzgerald, Y Combinator's Paul Graham and Seedcamp's Saul Klein.
Whether it is Dimitry Kotenko, who is trying to make Siberia into a leading solar powerhouse, or Saad Mohseni, who is piping TV talent shows into houses in Afghanistan, CNBC Business talks to the headline-makers before they make the headlines.
And just as important as unearthing business talent, we identify the next business hotspots. We have looked at the future telecom giants of the emerging markets, the various attempts to clone Silicon Valley, and the most creative business hubs in Europe.
Rounding out each issue of the magazine is the Pursuits section, which informs readers on ways to enjoy their downtime, with hotels, motoring and gadgets reviews and sports, culture and style crib-sheets. With such a focus on innovation, enterprise and investment, delivered in print and online, CNBC Business delivers the link to – wherever you are.
Boyd Farrow
Editor, CNBC Business
A uniquely targeted distribution
65% onboard First & Business Class and in the airport lounges of 40+ airlines, including Air Canada, British Airways, Gulf Air, JAL, Lufthansa, Qantas, SAS, SAA, Swiss, TAP, TAM and United Airlines.
9 % in selected hotels executive suites and lounges
10 % + in major relevant events, exhibitions and conferences including WEF Davos, MIPIM, Expo Real, Sopos, World Money Show, World Travel Market.
11 % International newsstand and subscription copies
5% Direct distribution to : Top CEOs, London Stock exchange, CNBC, Government officials
CNBC Business Global Leaders Controlled Circulation is a segment of our distribution reaching the 1,000 most senior CEOs of the world's top 1,000 businesses (based on company turnover). This business elite runs companies with a combined turnover of $22 trillion; they receive CNBC Business to read in the comfort and convenience of their offices.
Readership in excess of 671,000 per issue*
* Estimate based on multiple readers per copy in lounges and onboard
REACH INFLUENTIAL OPINION FORMERS
CNBC Business is read by over 670,000 affluent and influential opinion formers each month for its unique take on the innovators and leaders in the most dynamic business sectors. Affiliated to CNBC Television, the world's largest financial news channel, the magazine is read by CEOs, managing directors and other decision makers across the globe.
AN AFFLUENT, INTERNATIONAL READERSHIP
Male 77%
Key life stage
13% are aged 21-34 years
41% are aged 35-44 years
35% are aged 45-54 years
Affluent Average earnings €130k
Influential
21% authorise corporate finance
56% authorise computer purchases
International
75% have at least one office abroad
64% travel more than 20 business trips a year
Investors
55% invest in property
CNBC Business has a seven-year track record as one of the most read international monthly business magazines. Far from rubber stamping business as usual, it has always encouraged the game changers, the entrepreneurs and the champions of global free trade. Partnered with leading global financial news broadcaster CNBC Televison, the magazine prides itself on being both a leading business media property and a fine read.
ON NEWSSTANDS WORLDWIDE
Australia & NZ, Austria, Belgium, Croatia, Cyprus, Denmark, Estonia, Finland, France, Germany, Hong Kong, Hungary, Iceland, Italy, Japan, Latvia, Lithuania, Luxembourg, Malta, Middle East, North America, Canada, Norway, Poland, Portugal, Russia, Singapore, South Africa, Spain, Sweden, Switzerland, Taiwan, Turkey etc.
Additional Distribution: Events Calendar 2012
CNBC Business reaches senior decision makers and buyers attending the many shows held throughout the year. We ensure that the magazine is found at the key events below and we are proud of our continued association with them.
MARCH
The 15th International Hotel Investment Forum 2012, Berlin, 5-7 March
MIPIM, Cannes, 6-9 March
Cebit, Hannover, 6-10 March
ITB, Berlin, 7-11 March
Basel World, Basel 8 - 15 March
APRIL
Internet World, London, 24 -26th April
Brazil Investment Summit, Brazil 24-27th April
MAY
European Banking Forum,London, 8- 10 May
The money show,Las Vegas, 14 - 17th May
The Shorex Wealth Management
Exhibition and Conference, Singapore, 22-23 May
IMEX Exhibition, Frankfurt 22 -24 May
Carbon Expo, Cologne, 30 May- 1st June
WEF East Asia, Thailand 30 May - 1st June
JUNE
Global Petrolium Show, Calgary,12-14 June
WEF Europe, The Middle East, North
Africa and Central. Asia ,Turkey 19 - 21 June
JULY
East Africa Business Summit & Expo,South Africa, 20th July
SEPTEMBER
Private Banking Summit, Zurich 17-19 September
World Retail Congress, London,19-21 September
Monaco Yacht Show 2012, Monaco,19-22 September
International Economic Development
Council 2012 Annual Conference, Texas,30 September - 3 October
OCTOBER
European Future Energy Forum,London, 4-6 October
Expo Real, Munich, 8-10 October
Enterprise Marketing 2.0, Amsterdam, 12-13 October
The Carbon Show, London, 18-19 October
NOVEMBER
World Travel Market, London, 5-7 November
ADIPEC, Abu Dhabi 5-8 November
MAPIC, Cannes, 14-16 November
CNBC Business distribution
UNIQUE TARGET GROUP
With distribution in First and Business Class of over 40 airlines including, Air France, BA, Lufthansa and Emirates, at major international Conferences, , in airport lounges and select hotels, we can guarantee that our readers are ABC1, travelling, or planning future travel.
ACCESS TO CORPORATE ACCOUNTS
Our readers are senior decision makers. With our unique distribution directly targeting them and their travel patterns you have access to those who dictate and influence corporate strategy.
We directly distribute to the 1,000 most senior CEOs of the world's top 1,000 businesses.
The power of a global brand
 CNBC, First in Business Worldwide, is the leading global broadcaster of live business and financial news and information, reporting directly from the major financial markets around the globe, with three regional networks in Asia, EMEA and the United States.
Drawing on programming from Europe, the Middle East, the US and Asia, CNBC provides the perfect 24-hour global business briefing.
CNBC's mission is to provide insightful and informative commentary, CEO interviews, analysis and real-time data. This, combined with its highly experienced presenters and journalists, make it an unmatched product.
Available in approximately 400 million households worldwide, CNBC has three English- language regional business networks based in Europe and the Middle East, Asia and the US, offering a powerful combination of global and regional business power, with local expertise and relevance. The EMEA region alone accounts for more than 130 million homes.
In EMEA, CNBC is the only real-time, pan- regional business and financial news network dedicated to CEOs, senior corporate executives, the financial services industry and investors.
Across EMEA, CNBC is also available in the majority of four- and five-star hotels and directly on the floors of the region's major banks and financial institutions.
The CNBC global network is owned by NBC Universal, one of the world's leading media and entertainment companies in the development, production and marketing of entertainment, news and information to a global audience. NBC Universal owns and operates a valuable portfolio of news and entertainment networks, a premier motion picture company, significant television production operations, a leading television station group and world-renowned theme parks.